Overview
The mobility of the future is "eascy" – electrified, autonomous, shared, connected and "yearly" updated. In this study, we describe the factors influencing the sector leading up to 2030 in the key US, Europe, and China markets. It also describes how the automotive industry should restructure itself in terms of volume, scale, and complexity.
Through mathematical modeling of key performance indicators and demographic trends, the paper discusses:
Mobility behaviour of users through social personas and how they could influence traffic demand;
External factors that will influence mobility habits, vehicle mileage and frequency of usage;
Predictions of car inventory, replacement cycles and new sales; and
Implications for manufacturers, suppliers, service providers and their business models.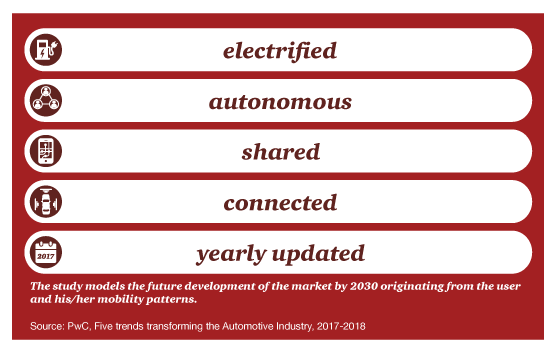 Electrified – the transition to emissions-free mobility will become a global requirement. Electricity used to charge vehicles will increasingly come from renewable sources to ensure carbon dioxide-neutral mobility.
Autonomous – The development of vehicles which require no human intervention will reduce the use of public mobility platforms and offer individual mobility to new user groups.
Shared – Professionally managed fleets of shared vehicles will reduce the cost of mobilty by a significant amount through more efficient use of expensive mobile assets.
Connected – This applies in two ways: communication between cars or with traffic management infrastructure or between vehicle occupants and the outside world. The car of the future will become a "third place" between home and workplace, combining features of both.
'Yearly' updated – The range of models will be updated annually to integrate the latest hardware and software developments, and react to changing requirements of shared fleet buyers.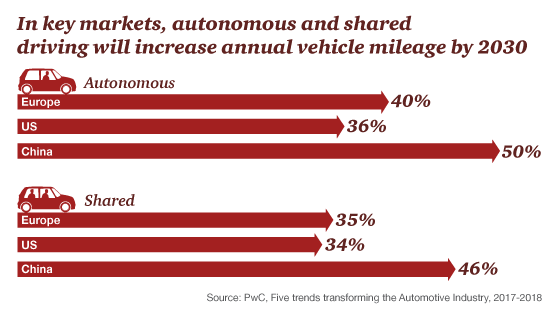 Our mobility habits will change 
The percentage of shared and autonomous mobility in overall road track will rise significantly.
Our forecasts suggest that by 2030, more than one in three kilometres driven could already involve sharing concepts. At the same time, user preferences will move more towards autonomous mobility. We calculate, based on mileage, that by 2030, the share of autonomous driving in overall traffic may rise to as much as 40%. Developments in Europe and the US are expected to happen at a roughly parallel pace. In China, by contrast, the proliferation of shared and autonomous mobility could happen faster than in the Western world. This would make China the leading market for the transformation of the automotive industry.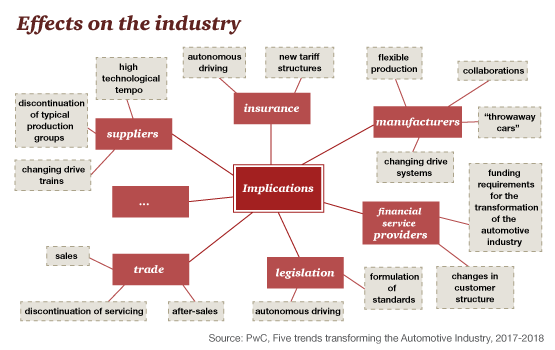 Effects on the automotive value chain
The comprehensive and rapid reorganisation of the automotive sector after 2025 will have far-reaching consequences for the entire industry and its value chains. Elementary structures and attitudes will have to change fast in order to cope with the developments by 2030 and beyond.
If they want to remain successful, both manufacturers and suppliers will have to offer user-oriented innovations. All these trends are likely to become increasingly apparent between 2020 and 2025 – which means that these are decisive years for manufacturers and their suppliers.
Source: https://www.pwc.com/gx/en/industries/automotive/publications/eascy.html